In the Know Newsletter #56
---
BREEDING BETTER DOGS NEWSLETTER
Those who don't read have no advantage over those who can't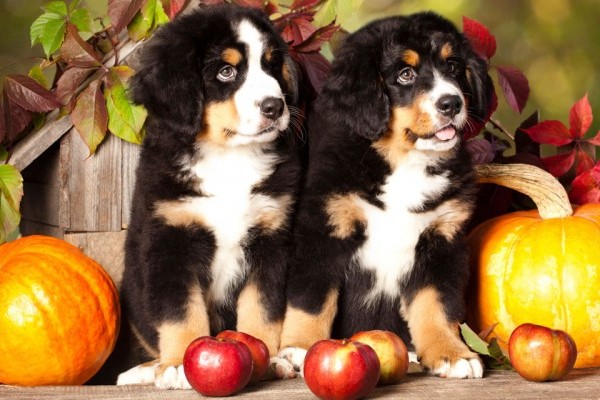 Halloween is a night the kids will be wearing weird outfits, making lots of noise, and running haphazardly while flailing their bags and buckets of candy. Under any condition a well-adjusted dog might be frightened by the excitement and chaos, so constantly check on your dog's body language and make sure he/she is not becoming stressed.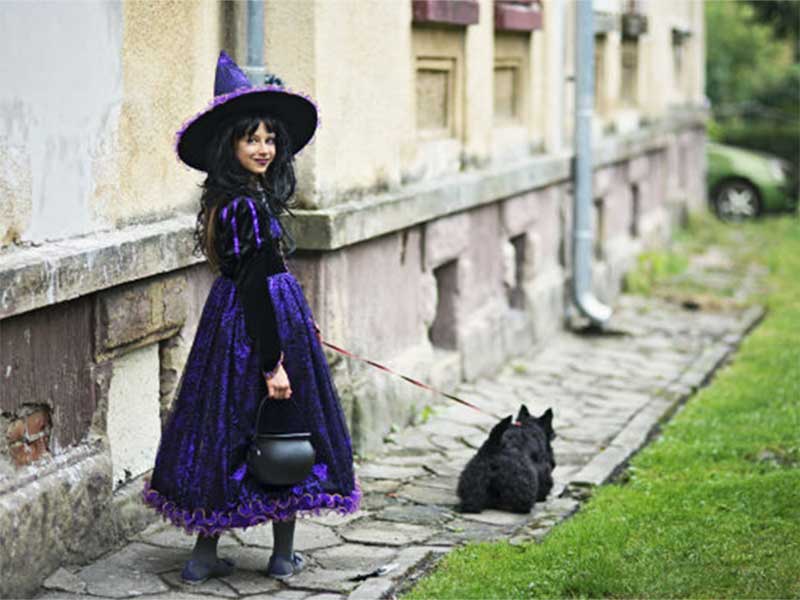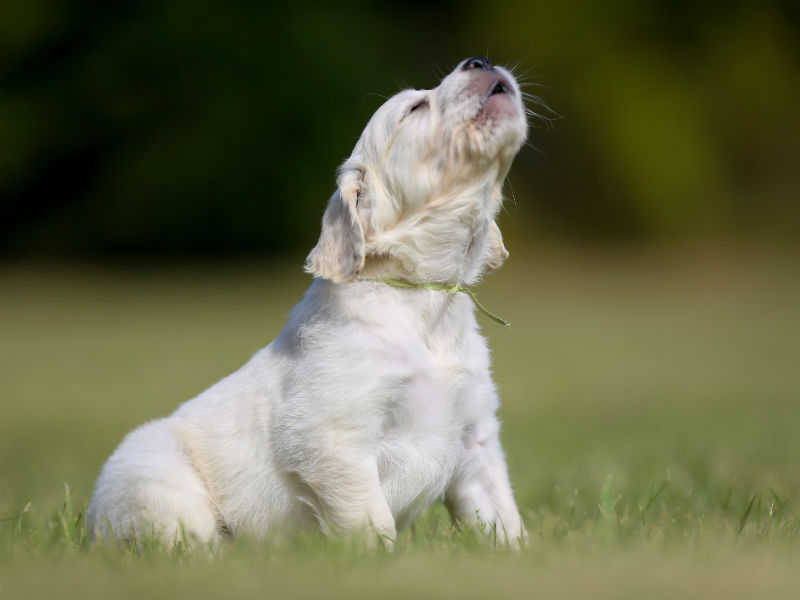 A few tips:
Put reflective tags or a vest on your dog for visibility. Take a flashlight.
Try a front-hook (no-pull) harness if he needs help walking on a loose leash.
Bring baggies to clean up after him, just in case!
Do not allow anyone to give him candy
Be extra alert! There may be other dogs out, and kids in a candy frenzy do not look where they are going.
Take along some treats (dog treats, not candy!) for him. Reward him periodically for being such a good dog
About that candy: be sure your dog does not get any of it. Not good for dogs, and CHOCOLATE IS POISONOUS TO THEM.
Health and Genetics
The following material is intended to raise awareness levels, not to prescribe treatment. Let's start with people which we all have a vested interest in when it comes to staying healthy.
Research shows that most food travels about 1,500 miles from the farm to the fork. Lettuce grown in California is shipped 3,000 miles to the east coast. The bad news is that 30% of what we grow is never eaten. This amounts to about 2.8 trillion lbs., that's enough food to feed three billion people. (National Geographic Magazine). Recommendations for humans:
Buy organic and naturally grown food.
When buying chose items with less packaging. Buy in bulk and freeze to reduce cardboard and plastic wrapping
Plastic grocery bags are a major source of litter and made from petroleum products. Skip eating meat one day a week. It takes 1,850 gallons of water to produce a one pound of beef as opposed to 39 gallons to produce one pound of vegetables and 468 gallons of water for each pound of chicken. Buy eco-friendly biodegradable and compostable disposal places, cups and utensils instead of throw-away paper products.
Why Dogs Lick People, Other Dogs, and Themselves?
A repeat by demand.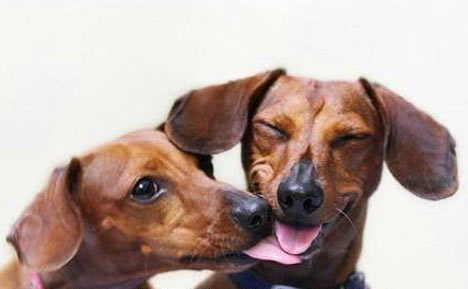 You taste good? Dogs have few taste buds so it seems strange and gross to us, but our sweaty, salty skin can be intriguing to dogs, who tend to explore the world with their mouths and are comforted by the scent of their caring owners. It's the same reason they often steal our socks and underwear. This, combined with the resulting attention and endorphins described below, makes smooches both tasty and rewarding for our pets.
Your dog might be licking to show submission, especially if he's licking another dog's muzzle. AKC Family Dog columnist and veterinarian Nicholas Dodman, says that wild puppies lick their mother's mouth as a signal for her to regurgitate the meat she's hunted and as a way of demonstrating subornation. Domesticated dogs use this instinctual behavior when interacting with other dogs (or humans) they consider superior to them.
Dogs that repeatedly lick a certain spot might be suffering from an issue that needs a specialist's intervention, including anxiety or obsessive-compulsive disorder. Dogs who frequently lick their feet may be trying to resolve a persistent itch caused by allergies. Dogs who lick their anal area frequently could be suffering from allergies or may need their anal glands expressed. If you notice your dog obsessively licking themselves, a person, or an object (bed sheets, for example), speak with a veterinarian, for a recommended treatment or a behavior specialist.
In most cases, your dog respects you and loves you. Enjoy the moments!
Those who don't read have no advantage over those who don't.
Success in the world of dogs depends on your knowledge and understanding of your problems.
Try our DVD , Breeding Better Dogs.
Low Calorie diets – longer life for dogs
Recent studies found that dogs would age less and live nearly two years longer if they ate less. The 14-year long study by Nestle Purina PetCare Co. involved 48 Labrador Retrievers from seven litters. Dogs were paired off, with one fed 25 % less than its siblings starting at 8 weeks of age. The thinner dogs lived for a median 13 years and had fewer diseases compared to their all-you–can eat partners, which lived for a median 11.2 years. Scientists have long known that calorically restricted rodents live up to 40% longer than usual. One theory is that caloric restriction causes metabolic shifts that affect the rate of aging by slowing down some of the metabolic processes that cause cell damage that leads to disease. The same effect is likely to hold true for humans.
Stick Dog Pedigree Software
Questions from our software uses are appreciated. One breeders comments will get your attention.
Question: "Can I use the software on more than one machine? Answer: Your license server checks for existing licenses, one license per machine.
Question: Will the software work on any computer. ? Answer: The software was written for Microsoft Windows only. It will not work on an Apple or Android devices.
Other features of this software:
With a click of the mouse, it will generate the Traditional pedigree with names, titles and certifications of the ancestors. It will also generated the ancestors as stick figures so breeder can color code the seven structural traits of conformation. The second feature is the Symbols Pedigree which is generated for coding health, the carriers and the dreaded diseases in your breed. A User Manual provides step by step instructions.
Puppies and how to choose them
Most breeders have a system or a theory on how to pick the best one. But a study shows about how good they are tells another story. On the average those who pick the puppy at an early age are wrong about 60% of the time. These are bad odds. What are needed are the skill and a reliable method that will reduce error. No one method is perfect but now available, on DVD is proven method to help with this problem, "Choosing the Best Puppy".
Seminars and Continuing Education - The Difference
When new information and scientific findings are reported they are added into our seminars. That's why our seminars continue to be popular. Nothing beats hands-on and useful information. Take for example, "Structure, Movement and Pedigree Analysis". This seminar focuses on learning how to recognize good structure and movement and how to use your hands to see what your eyes can't. "Making of a Super Dog" is another. It is based on new research and takes the student through a step by step process. The result is a healthier, smarter and more trainable dog with stronger heart beats, greater tolerance of stress and greater resistance to disease.
More than 13,000 breeders subscribe to this free Newsletter. Our website is home for more than 50 articles and newsletters and a list of seminars. If you do not see a seminar near your residence, ask your club to host one. They meet AKC's annual educational requirements.
Listen to the synopsis of each seminar.
AKC Breeder of the Year by Group
Congratulations To Honorees for 2016
Sporting Group: Dorothea (Dot) Vooris Simberlund, Fieldfine German Shorthaired Pointers
Hound Group: Ray and Jana Brinlee, Jaraluv Scottish Deerhounds
Working Group: Alan Kalter and Chris Lezotte, HappyLegs Bullmastiffs
Terrier Group: Joan Huber, Blythewood Miniature Schnauzers
Toy Group: Max E. Hurd, Hurd's Chihuahuas
Non-Sporting Group: Susan and Gary Carr, Salishan Tibetan Terriers
Herding Group: Terry Miller and Dominique Due, Deja Vu/Popsakadoo Briards
Other Recogntions
K9 Officer Aren: German Shepherd Dog of Port Authority of Allegheny County Police Department, PA. A five-year-old German Shepherd Dog of the Port Authority of Allegheny County in Pennsylvania, was stabbed to death during an apprehension this past January. K9 Aren, along with his handler Officer Brian O'Malley and other officers, had engaged a subject in a foot pursuit following an incident at the Wilkinsburg transit station. K9 Aren located the subject was stabbed and killed. K9 Aren was a trained patrol, tactics, and explosive detection member of the SWAT K9 operations team.
K9 Officer Jethro: German Shepherd Dog of Canton Police Department, OH. Jethro was an AKC registered German Shepherd Dog of the Canton Police Department in Ohio. In January 2016, Jethro and his handler Officer Ryan Davis responded to an alarm at a grocery store. As the pair entered the warehouse area, Jethro quickly picked up on the presence of a person and went to investigate. The subject was located and when he continued to disobey officers' commands, Jethro was deployed. The subject opened fire, shooting Jethro multiple times before fleeing on foot. The suspect was later apprehended a short distance away. Jethro was rushed to the Stark County Veterinary Emergency Clinic where he eventually succumbed to his wounds.
K9 Officer Tryko: German Shepherd Dog of Doraville Police Department, GA. K9 Tryko is a 12-year-old German Shepherd Dog of the Doraville Police Department in Georgia. In April, K9 Tryko and his handler, Officer Jason Deyette, were assisting the U.S. Marshals Service Fugitive Taskforce in a search for a man wanted for numerous felonies across multiple counties. Tryko located the suspect hiding in a house and was stabbed in the mouth as he moved in to apprehend him. He lost a great deal of blood and sustained a number of punctures and lacerations to his tongue and mouth. Tryko healed and returned to full duty.
The sacrifices that he has made throughout the career of these super dogs is truly appreciated.
Motel 6 offers a 10% nationwide discount to AKC Registrants.
To receive discounts reference the AKC account number CP542764. Remember 100% of Motel 6 locations are Pet Friendly and Motel 6 Does NOT Charge a Pet Fee or weight limits on Pets. Two pets per room. RESERVATIONS can be made at 800-4-MOTEL6 (800-466-8356)
Key To Success
Volumes of information are now available on most subjects but "Those who don't read have no advantage over those who can't." Today every breeder should have a collection of good books and important articles. We suggest:
"Breadth of a Pedigree" Knowledge about littermates is the centerpiece of a planned breeding
"Breeder Skills" Breeding the better dogs depends on your learning eight breeder skills. We must remember that it takes one set of skills to breed, another to exhibit and a third set to judge. The eight breeder skills are a necessary part of every breeders education.
Don't forget to send us your ideas at breedingbetterdogs.com
Keys to Success
There are volumes of information available on most subjects, which is why we believe that "Those who don't read have no advantage over those who can't."