Dear Reader
Continuing education is free on our website. Your friends can subscribe hear.
The picture below about purebred dogs appeared on Broadway in New York City.
The message: AKC breeders are those who breed to Standard so that the public will have a healthy and happy dog.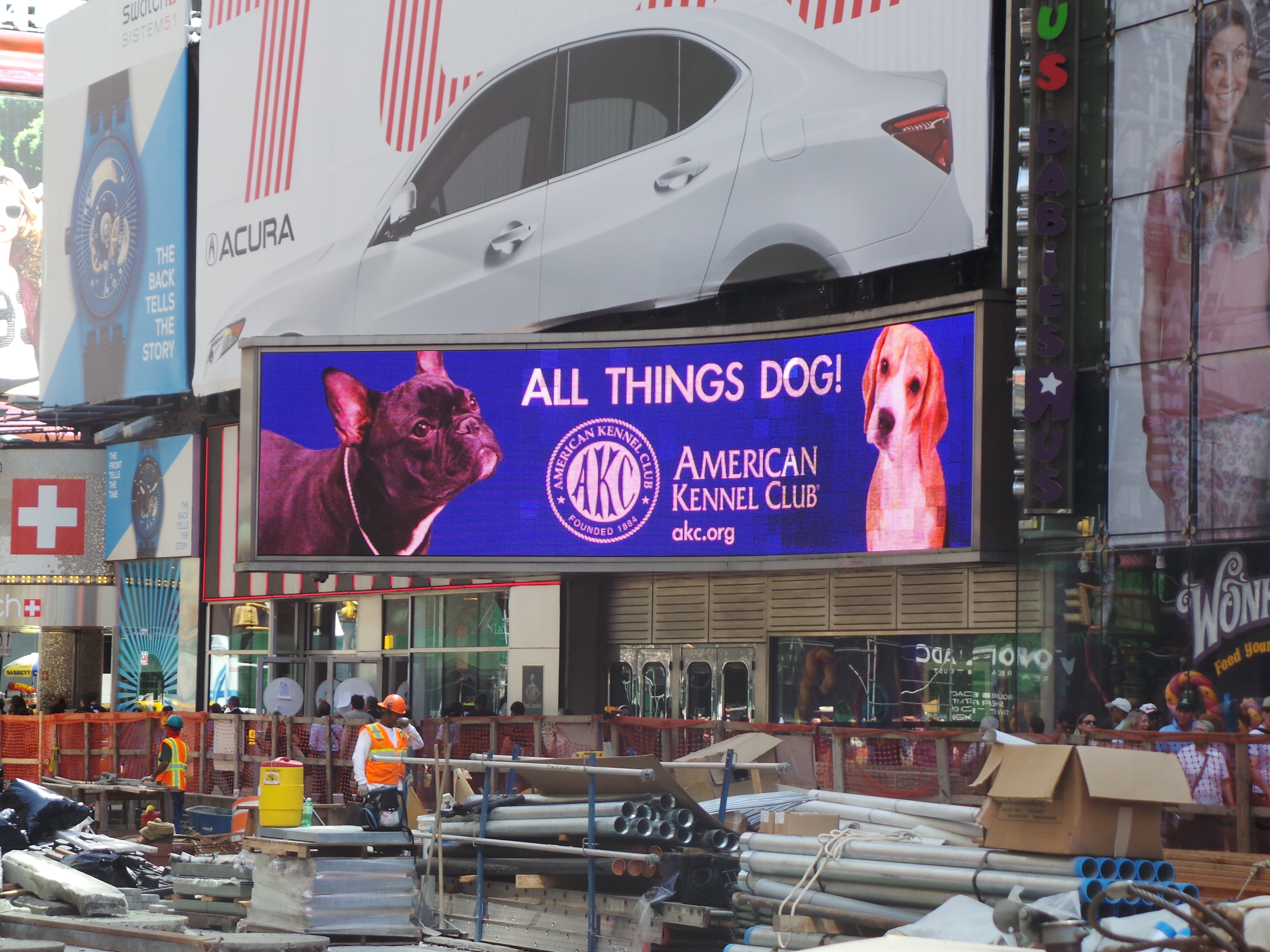 New Stick Dog Pedigree Software
Everyone who breeds should have this software. It makes pedigree analysis easy. Understanding the strengths and weaknesses of the sire and dam becomes obvious. The software is simple to use. It produces three different pedigrees for each dog:  
The Traditional pedigree with names and titles
The Stick Dog pedigree that color codes the seven structural traits of conformation
The Symbols pedigree which codes health and special traits of interests.
The program helps with planned breedings.Click here for details.
Health and Genetics
The following applies to both owners and dogs.
It is intended to raise awareness levels, not to prescribe treatment or offer self-diagnosis.
Health Tip
Dog owners - try watermelon and juice up after a show or workout. Guzzling some water after a show or workout with watermelon pays off. ! High levels of L-citrulline, and amino acid aids in muscle soreness and heart-rate recovery, according to a new study in the Journal of Agricultural and Food Chemistry. It also packs lycopene, and antioxidant that protests against certain kinds of cancer.
Parents with Children at Shows
Family meals keep kids healthier now and later in life. According to a Journal of Pediatrics study, sitting down for a family meal once or twice a week significantly reduces the odds children will be overweight today – and 10 years later. The Pediatrics study found that even picky eaters consume more fruits, veggies, dairy and whole grains when they eat with their parents. These benefits continue in life. The kids who watched adults eat also learn lifelong healthy behaviors like portion control.
Prevent Arthritis
An estimated 75% of Americans do not get enough joint-saving vitamin D. Humans can manufacture their required quota of "D" with 15 minutes in bright sunlight four times weekly according to Tufts University. This one step reduces the risk of arthritis 67%. Another solution is losing weight. Three pounds lighter on your feet means less wear and tear on your joints. Exercise tones muscles, boosts blood flow to joints and improves flexibility by up to 55%. Flexible hamstrings help prevent serious knee injuries. Try thirty seconds of daily reaching to your toes while sitting straight-legged on the floor.
Coffee Drinkers
Johns Hopkins University found that 16 oz. of coffee each day helps to improve long –term memory. The antioxidants in coffee also help destroy cancer-causing cells. Three cups of coffee a day lowers a 20% lower risk of basal-cell carcinoma. Harvard researchers found that one extra cup a day makes you 11% less key to develop diabetes.
Health Tips For Your Dog
Skipping Flea Medication
There is a price to pay. Fleas quickly set up shop on untreated pets, and fill your house with their eggs and young. Some people wind up covered in itchy sores.  Fleas transmit serious diseases to people including the bubonic plague. Ask your vet about long term flea medication and put a routine reminder on your calendar.
Too Little Exercise
Just like people, dogs need exercise to stay healthy. Couch potato dogs are prone to obesity, which raises their risk of respiratory and joint problems. The right amount of exercise for a dog depends on breed and size, but vets recommend at least a half-hour each day. Taking brisk walks with your dog help your dog and you stay in shape.
Misreading Body Language - Love your dog but understand them.
All wagging tails are not a good signs; you could be in for a nasty surprise. When a dog wants to threaten someone, they may hold their tail high and wave it stiffly back and forth. Do not mistake this warning for a sign of playfulness.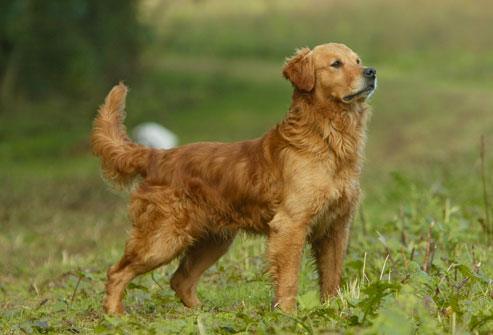 Long-Term Health Risks Associated with Spay/Neuter
A new report of 50 peer-reviewed papers unravels the complexities of this subject. There are many health risks and issues related to spay & neuter. Go to: Where?
Dreaded Diseases
Dreaded disorders are those that: kill, cripple, and cause early death or blindness. Bloat is a dreaded disease which has a reported lifetime risk of 24% in large-dogs and 21. % in giant breeds. Typically dogs go from phase 1 - 3 in just a few hours. Death is often imminent. For these reasons owners should purchase a Bloat Kit.
Three New Articles
Seminars
Includes the research, technology, use of pedigree analysis, nutrition and management. Learn how to produce smarter and more trainable dogs with stronger heart beats, more tolerance to stress and greater resistance of disease.
Beat the 60% error rate when choosing the best puppy. An unpublished study shows that the best dogs in most breeds are not owned by their breeder - Reason ... lack of breeder skill and knowledge. If you can't attend this seminar it can be purchased as a DVD and viewed in the comfort of your home.
Wardogs, Narrated by Martin Sheen depicts the amazing saga of the heroic dogs who served in the Vietnam War. You pay only shipping and postage.
Keys to Success
There are volumes of information available on most subjects, which is why we believe that "Those who don't read have no advantage over those who can't."